Dont miss stories. Follow Goldenicons!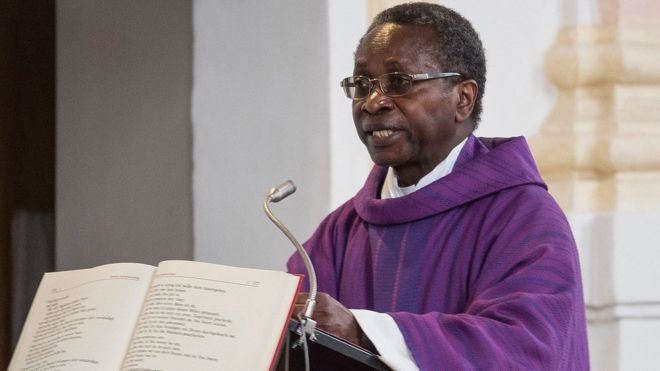 An African Catholic priest of Congolese origin has announced his resignation from his parish in a Bavarian town stating that he had received numerous death threats and was told to "get off to Auschwitz" after he tried to speak up for the rights of war refugees in Germany.
Olivier Ndjimbi-Tshiende's resignation was the newest incident in a mounting wave of abuse and violence directed against migrants and refugees in Germany.
The 66 year old priest took up his ministry at St Martin's church in the small suburban town of Zorneding, east of Munich, in 2012. He announced to shocked parishioners that he would be leaving his post in April during his sermon on Sunday.
"You cannot imagine what I have experienced here," he told a Munich newspaper. "The pressure is too great and I am tired."
The priest had been bogged with received numerous written and verbal death threats and hate mail, including a letter that advised him: "Off to Auschwitz with you." He said he was warned by a local resident: "We'll get you after early evening Mass."
The hate-mail campaign started after a bitter public row concerning the more than one million refugees who have fled to Germany during 2015. Actors involved were Father Ndjimbi and local members of Bavara's ruling Christian Social Union, which is a sister party to Chancellor Angela Merkel's ruling conservatives.
The dispute blew up after Sylvia Bohrer, who just recently resigned as the local chair of her party, described the refugees as "invaders". Father Ndjimbi expressed his displeasure at the description. But his criticism fueled the anger other CSU politicians, including Ms Bohrer's deputy, Josef Haindl, who described the priest as "unser Neger" – which translates as "our nigger" or "our Negro",
The duo, Mr Haindl and Ms Bohrer, resigned from their party posts after their outbursts. Father Ndjimbi said he had not gotten any apology for the comments.
A CSU spokesman said he bitterly regretted Father Ndjimbi's resignation and blamed "psychopaths" for the death threats and racist abuse he suffered. The CSU is opposes Ms Merkel's open-door refugee policies and has requested for border controls.
Source: The Independent
Comments
comments